Gutter Cleaning in Exeter
Safe and Sound, We do it from the Ground.  GutterPRO Gutter Cleaning in Plymouth
GutterPRO Clear Gutters in Exeter.
Clearing gutters is all we do, and our customers say we're great at it.  We use the latest technology to clear gutters using high power vacuum suction and extending carbon fibre poles to reach over conservatories and up to four stories high all from the safety of the ground.
Our wireless camera system takes pics as we go and we share with you the before and after photographs.
Looking for a professional gutter clearing service for your home?
No mess, no fuss, and no ladders.  We clear gutters from the ground, using our powerful vacuum system that safely clears everything away that can cause problems in your gutters.
The GutterPRO Gutter Clearing Process
Getting a Price & Booking
Enter your postcode into the form or call us on 07586 537 274 or 01752 927 106  and we'll book you in.
Depending how busy we are, expect 3 to 5 days until we can fit you in.
We will send a booking confirmation email with your address, the price and what time we will arrive on the day. It also has a photo of the person that will be carrying out your gutter clear.
On the day
You'll get a text reminder that we're coming to clear your gutters, and when we are on our way, you'll get a link to track us as we drive to your home. When we arrive, we'll introduce ourselves and carry out a safety survey and a camera survey to get the 'before' pictures.  Kevin will complete the clear, and then do a final survey to get the 'after' pictures.  At the end of the job, you'll see exactly what we taken from your gutters, and how clear they are. You can pay by cash, cheque or card, and your invoice will be emailed to you.
Check out our reviews:
[facebook-reviews-pro page_name='Gutterpro Plymouth' page_id=136748870387017 page_access_token=EAAVVPjFKgSEBANUvhc3PWpiaWGThkPsRMkAfdsPD684plE876ZBPOGua2h5WqQIsruhyoyuQgxa40EXBqZCQU03RMfoNhMNRZAnlZCsOS50ZBCcrbk8sY2a5rUFECgGMMp0GZBQZBoZBwoiZCmB3ZBssZAZBg1a6ZC9rN3bAYOaXGJ3LcsgZDZD view_mode=list open_link=true nofollow_link=true lazy_load_img=true cache=24]
Get your Instant Quote
Simply enter your postcode below
Fully insured, fixed prices, no matter how long it takes.  We make it really easy to book, see the work we have done, and offer cash, cheque and credit or debit card payments at your door.  It's the GutterPRO way.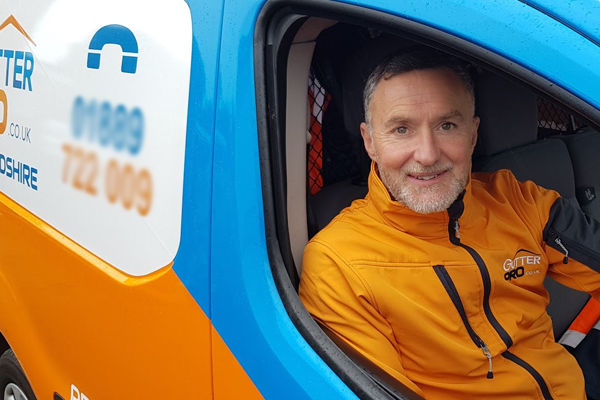 We can clean gutters and clear gutters in Exeter and surrounding areas.  Main areas are:
Heavitree
Monkerton
Newtown
Pinhoe
West Clyst
St Thomas
Countess Wear
Wonford
Topsham
Beacon Heath
Whitestone
Bradninch
Broadclyst
Cadbury
Clyst Honiton
Clyst St Mary
Cranbrook
Newtown St Cyres
Silverton
Talaton
Whimple
Woodbury
Cristow
Cockwood
Dunsford
Kennford
Kenton
Mamhead
Exminster
Dawlish
Exmouth
Lympstone
Budleigh Salterton
East Budleigh
Otterton
Crediton
Not in this list?  One of my Gutter Cleaning colleagues may be able to help. Call head office on 01752 927 106 for more information.