This morning we carefully braved the thick fog across DN14 in the East Riding of Yorkshire, to clear the gutters on a Victorian terraced property in Goole.
Many Victorian properties have had their living space extended into the loft, often having dormer windows fitted with guttering that is not readily accessible from a ladder.
Gutters on a second, or even third floor are no problem for GutterPRO. Our high powered, suction equipment can easily and safely each up to and clean gutters on a second, or third floor of a property. We have successfully cleaned gutters of many such homes in Goole, Howden, Snaith and across East Yorkshire.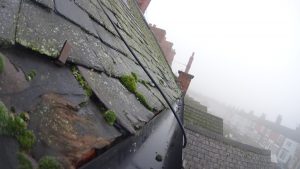 This morning in Goole, as always, GutterPRO conducted a thorough camera survey of the condition and contents of all of the gutters to be cleared on the property. We use a wireless camera attached to a telescopic pole to reach right up and into the gutters, giving us a unique birds eye view ,not only of the gutters, but also the roof valleys and tiles.
When we have successfully completed our gutter cleaning, we take a final set of photos to show our customers that their gutters are clear. These photos can also be used to advise GutterPRO customers of other issues that they may not yet be aware of.
For example, you can see in the attached photos that a few roof tiles have slipped, on this property and may cause an issue with a leak to the roof during heavy winter rain for example.
Whether you're in Goole, Snaith, Howden, or anywhere across the DN14 area, give GutterPRO a call on 01405 445018 or check us out online at www.gutterpro.co.uk.
Do you know what's lurking in your gutters?